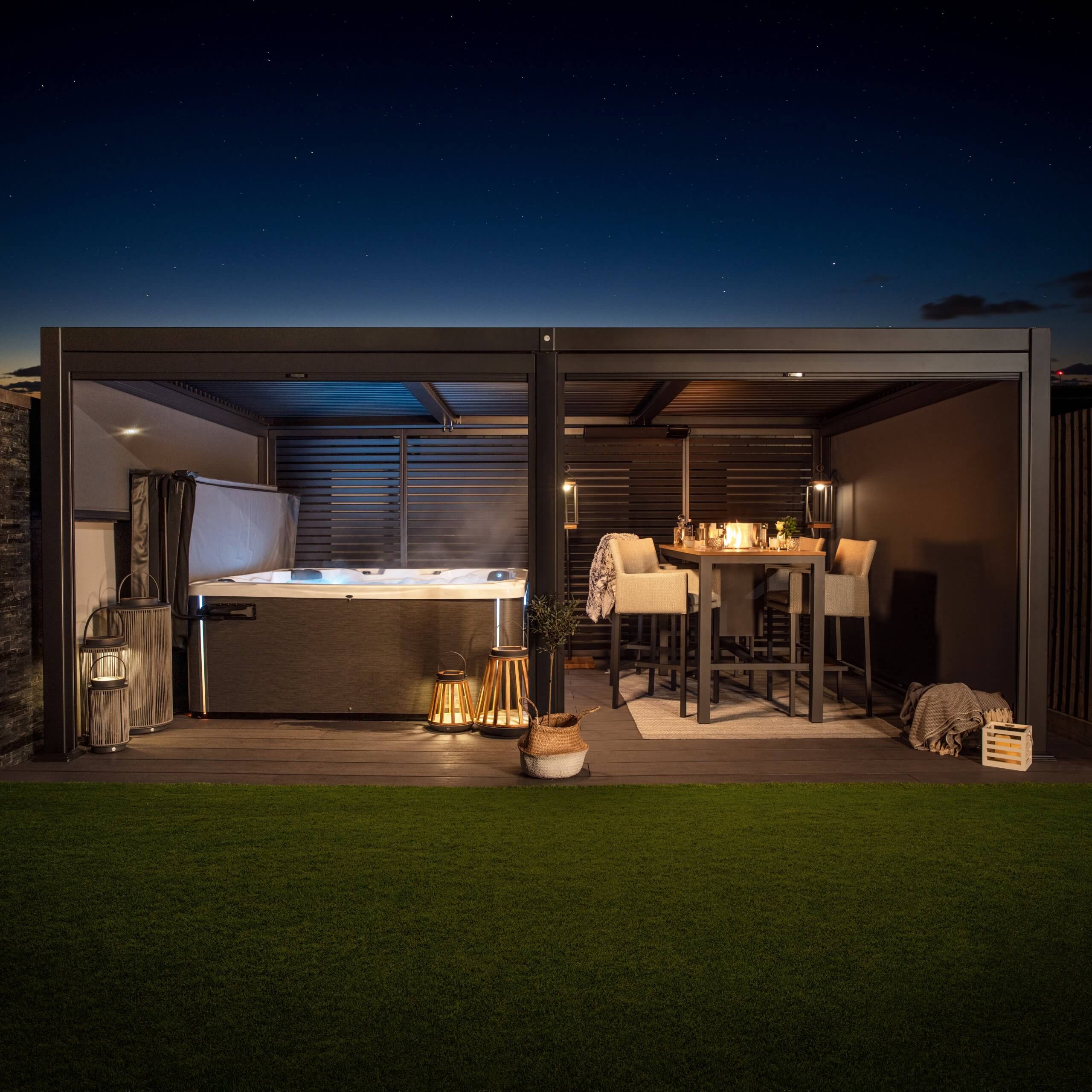 Looking for a 5m x 3m Aluminium Pergola? Here are the best options available
In stock for free delivery
Finding Your Perfect 5m x 3m Aluminium Pergola

Are you looking to transform your garden into an absolute hosting haven, with a spot on your patio that is perfect for a 5m x 3m aluminium pergola? 
Well then depending on how long you've been searching, you might be getting a bit frustrated.
We carry 8 of the best and most popular aluminium pergola models on the UK market, and together they cover almost 20 different sizes, and one of the most difficult sizes to get your hands on? You guessed it... 5m by 3m.
Which is crazy! Because 5m x 3m is actually one of our most commonly requested sizes.
Would you believe that none of the major brands who create aluminium pergolas with a louvered roof, currently offer an affordable option, that is 5m x 3m exactly. If you jump up a price bracket and import a European model, you can find it - but what if you don't want to spend in the region of £15,000?
Don't worry, we've got some great options for you, and we've broken those down below.
Which is the best 5m x 3m Aluminium Pergola?
 Well, this is a tough question to answer. Perhaps a better question would be "what is the best option for someone seeking an affordable, 5m aluminium pergola?"
The answer to that, is one of the Suns Lifestyle models. If you're a regular reader of our content, you'll know we are the self professed geeks on the aluminium pergola space, and you'll also know, when it comes to manual louvered roof aluminium pergolas, Suns Lifestyle are the best.
Unfortunately, like the rest of the market, they don't yet offer an aluminium pergola dead on the 5m x 3m dimensions, but they do have a couple very close to that.
The Suns Lifestyle Maranza 5.3m x 3.5m
The Suns Lifestyle Alvaro 5m x 3.6m (coming soon)
Aluminium Pergola 5m x 3m Price - what are the options?
Aluminium Pergola 5m x 3m with a louvered roof - bioclimatic brilliance
Much like our entire range of aluminium pergolas, your 5m x 3m aluminium pergola, is topped off with a louvered roof – the real key to creating your dream outdoor entertaining space.

Prepare to turn your garden into an absolute haven, where you create wonderful memories with your loved ones. And that is why we love aluminium pergolas so much!

Once your pergola, adorned with a louvered roof, is installed in your garden, it will create a space for you to enjoy your garden, no matter what the weather throws at you.

Visualize this: you're poised to serve up a delectable BBQ feast, and out of nowhere, the heavens open up. Panic not; a simple adjustment closes the roof in seconds, creating a perfect shelter to enjoy that BBQ masterpiece you've been slaving over.


When the wind picks up and your guests are more heavily chilled than the rose, simply close those side blinds and the louvered roof to create a complete 360 shelter. Maybe pop the infrared heaters or fire pit on for good measure.

And on those blistering days, when the mercury soars to 30 degrees, a slight tweak of the louvres ushers in a cool respite, so you are able to enjoy one of those great days without melting!

The great news is, on a 5m aluminium pergola. You actually get two independently controlled roof sections. Enjoy bathing in the sunshine on one side, whilst your partner cooks in the shade on the other.
You literally now control the weather!
Would you like our help?
We'd love to hear from you and to help you. If you'd like our consultation, advice, a garden sketch, or just a chat - please reach out!
020 3835 8311
sales@woodlarkgardenluxury.co.uk