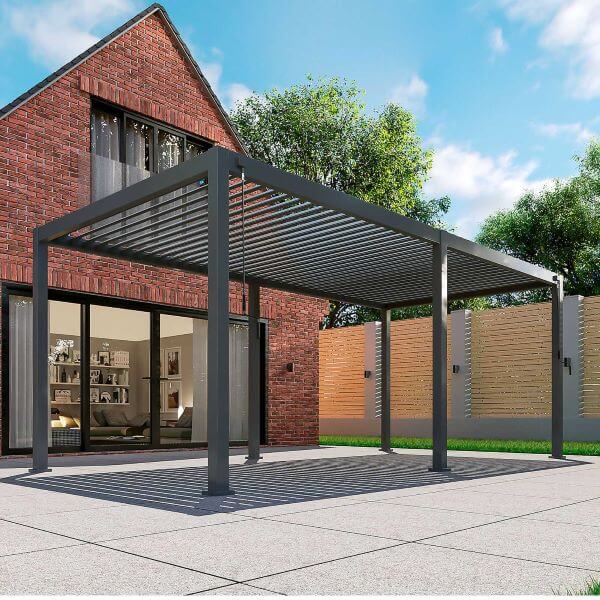 Unveiling the 6m x 3m Pergola: A Comprehensive Review
In stock for free delivery
Our Favourite 6m x 3m Pergola:
Picture this: you're hosting a garden party, and the weather is not playing ball. Wouldn't it be incredible to have an award-winning, stylish, and functional 6m x 3m pergola to shelter your guests and keep the festivities going? Enter the Nova Titan 6m x 3m Rectangular Aluminium Pergola, a game-changer for outdoor living enthusiasts. But can it really live up to the hype? Let's find out!
Why you'll love it
Weatherproof your outdoor space with the Nova Titan Pergola: stylish, durable and complete with an adjustable louvered roof!
Your garden is ready for all seasons. A waterproof roof that keeps the rain out, blinds to create shelter, and louvres to offer the perfect balance of sun and shade on demand!
Spend time outdoors all year round with the people you love - it's a worthwhile investment you won't regret!
Introducing the Nova Titan Pergola
The Titan 6m x 3m Rectangular Aluminium pergola from Nova, with its award-winning design and innovative features, is a gorgeous addition to any outdoor space. Crafted out of top quality aluminum, this pergola provides all season protection while requiring little to no maintenance whatsoever. The adjustable louvres allow you to choose the perfect balance of sun and shade, for your garden parties or leisurely afternoons in the sun! It also allows you to close the roof when the heavens open, keeping the rain off you and your guests.
Your Nova Titan is also resistant to UV rays due to its dependable powder coated framework which can be assembled quickly so you can start enjoying your outdoors sooner rather than later! Homeowners seeking an aesthetically beautiful, yet durable solution will find exactly what they need when investing in the Nova Titan Pergola 6x3m as it encompasses both style & function perfectly.
Assembly Instructions
Installing the Nova Titan Pergola is a simple process that should take approximately 3 hours with 2-3 people working in tandem. The legs of this structure are hollow, creating an ultra light but stable construction. To properly install it and guarantee safety standards have been met, make sure to firmly attach the pergola to the ground by using already existing holes within each leg base plate for a secure hold, into a stable base like concrete footings. Following these steps along with assembly instructions will lead to seamless setup so you can enjoy your refreshed terrace space without delay!
Elegance meets Durability: The Design Aspect
Constructed with exceptional weatherproof aluminium, the distinguished Nova Titan Pergola won a 2020 RED Dot Award for outstanding design and engineering. Not only does it provide superior strength against rusting or wind damage, but its Drylac Powder Coating also protects the aluminium colour, despite UV exposure, whilst ensuring minimal maintenance is required.
This magnificent pergola features an adjustable louvred roof which allows different levels of shade and sunlight, so you can always create the perfect outdoor space for your guests, regardless what the weather is doing.
User-friendly Features: The Functionality Aspect
The Nova Titan Pergola provides the utmost convenience with its user-friendly features. It can be easily adjusted by turning a crank mechanism for extra light and shade, provided by galvanized steel fixings, operating your aluminium tilting louvres. It has built in drainage to ensure that rainwater is directed inside the structure legs and drained out the base, guaranteeing you stay dry inside your pergola. Its durability also sets this model apart, as high grade TIGER Drylac Powder Coating requires no extensive maintenance or upkeep for long lasting results over time.
Putting it to the Test: Weather Resistance
The Nova Titan Pergola is made from durable aluminium, featuring shaped channels for superior stability and adjustable louvres to deliver sun protection, privacy control and weather resistance. Its UV protective exterior features a fully waterproof louvered roof, along with TIGER Drylac Powder Coating that guards against fading caused by the elements like rust, moisture or exposure to sunlight.
If it begins raining while you're outdoors on your pergola then worry not, as its built-in drainage system ensures water will be directed away through "u shaped channels." This prevents any accumulation of rainwater atop the structure thus creating a pleasant atmosphere during wet conditions!
Enhance your outdoor space today with this reliable and versatile addition - The Nova Titan Pergola - which promises hours of comfort regardless of all kinds of weather!
Real-life Use: Space Utilization and Comfort
The Nova Titan 6m x 3m Rectangular Aluminium pergola is the perfect choice for designing a cozy and usable outdoor environment. It has plenty of space to suitably arrange furniture such as dining sets, chairs, sofas, coffee tables and benches, accommodating multiple guests within its covered area.
It features an adjustable tilting louvre system that provides control over how much sunlight or shade you and your guests would like. Creating optimal comfort regardless of weather conditions throughout any season at all times! This pergola gives people an ideal way to extend the use of your garden, decking or terrace, all year round!
Is the Nova Titan Worth It?
The HANOVER Titan Pergola is an eye-catching and highly functional option that adds value to any outdoor area, while the cost of £3,599.00 may seem hefty at first glance, it's worth considering for its strength against weather conditions as well as low maintenance required with such a stylish design element. Customers who have purchased one are all in agreement on many points regarding this stunning piece: award winning aesthetic appeal, rugged build quality, ultraviolet protection capabilities. Aluminium made for extreme climate resistance finished off by TIGER Drylac Powder Coating which ultimately guarantees long lasting enjoyment from your pergola purchase! Prior to installation though, you should always check local planning office guidelines regarding regulations or permits needed.
Summary
It is clear that the Nova Titan 6m x 3m Rectangular Aluminium pergola makes for an impressive addition to any outdoor area. Its award-winning design and construction guarantee lasting durability in a range of weather conditions, making it easy on the eye as well as requiring minimal maintenance.
As such, if you're seeking out a unique pergola with all these features combined then investing into this product could be your best bet when wanting to create an inviting oasis in which you can share precious moments with friends or family members alike.
Frequently Asked Questions
Is it cheaper to build a pergola or buy one?
Building a wooden pergola yourself with the necessary tools is an easy and economical option, as it allows you to bypass expensive installation charges while still supplying a premium product. However when it comes to aluminium, buying and assembling is the best balance between investment and great results.
What size is a standard pergola?
For your ideal patio cover, pergola sizes range from 3m x 3m, all the way up to 7m x 4m, and beyond!
What's the difference between pergola and Pergoda?
Pergolas are an ideal choice if you desire light shading and minimal upkeep. On the other hand, Pergodas offer beautiful design aspects such as elaborate detailing on their supporting columns or rooftops – making them a stylish addition to any garden area.
Why are pergolas so expensive?
Pergolas can be expensive due to the materials used; from pressure-treated wood to entry-level aluminum and higher quality aluminum, each material has its own cost and premium materials usually have a heftier price tag. A good quality aluminium pergola however, should last your 10 years+.
How big can I build a pergola without council approval?
You don't need to get council approval for pergolas up to a height of 2.5 metres, provided that they are within two meters from the boundary or three meters away.