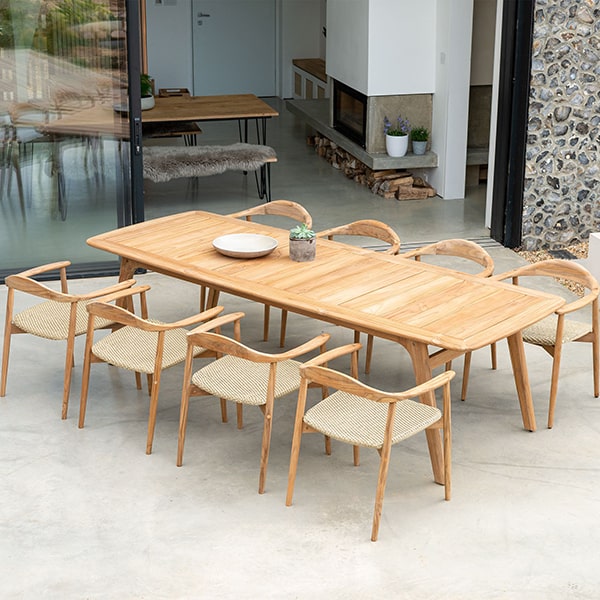 Alexander Rose Dana Teak Dining Set
In stock for free delivery
Alexander Rose Dana Teak Large Dining Set -  
Experience the essence of Danish design with the Alexander Rose Dana Teak Lounge Set. Inspired by the rich heritage of Denmark, this set is sure to enhance any outdoor dining area.
Crafted from premium teak wood with a smooth finish, it boasts the unmistakable aroma of the lush Brazilian forest where it was sourced.

Newly launched in 2023, the Alexander Rose Dana Teak Lounge Set is a stunning addition to the Dana range. 

With its understated elegance and impeccable attention to detail, this teak dining set is guaranteed to make a statement and create a warm and inviting atmosphere in your outdoor space.
The Dana seat pad on the dining chairs, is woven from a natural coloured, Teslin cord. With reference to traditional paper-cord weaving seen on Danish classics, the weatherproof cord offsets the Teak, giving the chair harmony and balance



The Dana Large Table
Indulge in the understated sophistication of the 2.7m Teak Dining Table, a striking addition to any contemporary home. With its sleek and elegant design, this table comfortably seats 8, making it perfect for hosting intimate gatherings and entertaining loved ones. Pair it with the Dana dining chairs from the same collection to complete the look.
Crafted from premium Brazilian Teak sourced from FSC-managed forests, this table is both eco-friendly and sustainable. By choosing this table, you are not only adding a touch of timeless elegance to your home but also contributing to the regeneration of our precious forests and the protection of wildlife. Teak wood is renowned for its durability, and with a lifespan of over 25 years, this dining table is a wise investment for those seeking furniture with heirloom quality.
Dana Large Table Dimensions:
Weight: 34 kgs
Width: 2700 mm
Height: 725 mm
Depth: 1000 mm
The Dana Small Table 
If you're looking for the same level of elegance and sophistication, but for a more intimate experience, the 4-seater Dana Table is perfect for you.
Dana Small Table 2.7m x 1m Dimensions:
Weight: 15 kgs
Width: 1000 mm
Height: 725 mm
Depth: 1000 mm
The Dana Dining Armchair with Natural Rope Seat
Introducing the stunning Dana Dining Chairs, the epitome of timeless elegance and versatility. These chairs are equally captivating on their own or as part of a set with the matching dining table, adding a touch of sophistication to any indoor or outdoor space.
Crafted with precision and care, the seat pad of the Dana Dining Chairs is hand-woven from weatherproof Teslin cord in a natural hue. The intricate weaving style complements the Scandinavian-inspired frame and beautifully offsets the Teak wood, creating a perfectly balanced and harmonious look. While these chairs were designed with the outdoors in mind, they are equally at home on a patio or as a chic addition to a Scandi-inspired interior.
With its impeccable craftsmanship, exquisite design, and unparalleled comfort, the Dana Dining Chair is a must-have for those seeking a perfect balance of form and function in their furniture.
Dana Dining Armchair with Natural Rope Seat Dimensions:
Weight: 6 kgs
Width: 625 mm
Height: 725 mm
Depth: 565 mm