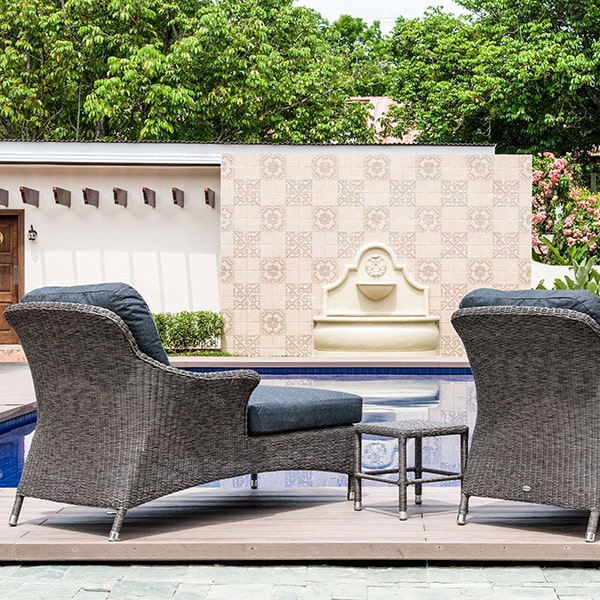 Alexander Rose Monte Carlo Relax Lounger
In stock for free delivery
The Alexander Rose Monte Carlo Relax Lounger - This standout sun lounger is a stunning piece from the Alexander Rose Monte Carlo collection.
This Relax Lounger is built not only for style, but for luxurious comfort too. The smooth curves and thick, plump cushions beckon you to grab a cocktail, kick off your shoes and sit back.
This supportive armchair style lounger, with an extension for resting your legs is made and woven in Cebu by Alexander Rose's in-house weavers at the pinnacle of their craft.

The Relax Lounger from the Alexander Rose Monte Carlo collection comes with charcoal grey cushions made using olefin fabric that perfectly compliments its natural grey rattan weave.
Place one of these exquisite loungers next to the matching Monte Carlo sunbed side table, and you'll never want to leave - except perhaps to follow the sun's path as it moves across your garden!
Frequently bought together. This Alexander Rose Monte Carlo Side Table, woven and finished in the same mid-grey rattan weave is the perfect accompaniment to your Monte Carlo Relax Lounger. 

£89.99
Alexander Rose Monte Carlo Sunbed Side Table Dimensions:
36 (W) x 44 (H) x 36cm (D)
Weight (kg): 2
Why you'll love this Alexander Rose Monte Carlo Relax Sun Lounger:
Easy to move as you wish!
With its adaptability to any outdoor space, whether it be a garden, poolside, deck or patio, the Alexander Rose Monte Carlo Sunbed is the perfect addition for anyone looking to soak up the sun in style. This versatile lounger can be easily moved around to cater to your daily preferences. 
Protected with a 3 year warranty
This Alexander Rose Relax Lounger has a 3 year warranty.
Deep padded cushions 
Deep, comfortable and padded olefin fabric cushions provide the perfect bed to rest and enjoy the outdoors for hours.
Easy care, low maintenance weave

All Alexander Rose products are designed for low maintenance. This weave Monte Carlo Relax Lounger can be left out in all weathers and is cleaned with warm soapy water. 
For cushions, we recommend using a microfiber cloth and fabric cleaner spray to remove any of those tricky marks!
Monte Carlo Relax Lounger Dimensions
Weight: 19 kgs
Width: 840 mm
Height: 850 mm
Depth: 1450 mm