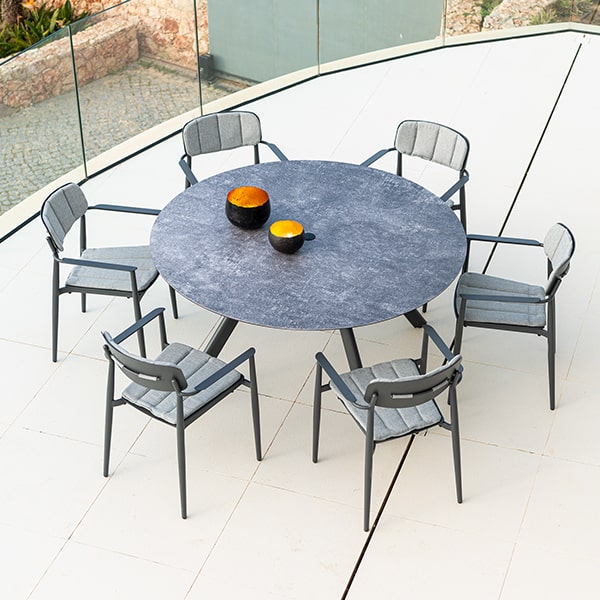 Alexander Rose Rimini Dining Set
In stock for free delivery
Alexander Rose Rimini Dining Table and Chairs
In line with the ever growing trend for aluminium furniture, 2021 saw the launch of the new Rimini collection, with its distinct design features.
Angled aluminium powder coated legs support the ceramic glass table top with a stunning and high-end dark grey matte dappled effect finish.
With a hole in the center for those sunny days where you want some shade, this Rimini Dining Set really is the perfect accessory for your outdoor dining space.
The luxurious deep padded chair cushions come in a light grey colour to compliment the frames.

Whilst this collection offers various shapes and sizes of dining table, all tops are finished in a striking dappled grey ceramic effect glass.


Alexander Rose Rimini 6 Seater Dining Set with 1.3m Round Table
The stunning circular table in the Rimini Collection comfortably seats 6 people for a fun evening of outdoor dining.
This circular table set comes with six beautifully welded aluminium powder coated charcoal grey chairs. Accompanied with comfortable padded seat cushions and backs, this dining set matched luxury high-end look and feel, alongside extensive comfort.
Alexander Rose Rimini Round Table 1.3m Dimensions
Weight: 23.5 kgs
Width: 1300 mm
Height: 730 mm
Depth: 1300 mm
Alexander Rose Rimini 6 Seater Dining Set Rimini with 1.5m x 0.9m Rectangular Table
If you're seeking a contemporary rectangular dining table, suitable for outdoor entertaining, we're confident this one from our Rimini collection will catch your eye!
Another perfect six seater dining table, you will spend your evenings appreciating the comfort and elegance of this Alexander Rose Rimini Rectangular Dining Table.

Alexander Rose Rimini Rectangular Table 1.5m x 0.9m Dimensions
Weight: 25 kgs
Width: 1500 mm
Height: 740 mm
Depth: 900 mm
Alexander Rose Rimini 8,10 & 12 Seater Dining Set Rimini with 2.3/3.0m x 1m Extending Table
This beautiful Alexander Rose Rimini Dining Table is incredibly easy to extend, simply lift up one end and slide and in seconds it's transformed from an 8 foot table to a 10 foot table which can seat up to 10 guests.
The table frame is made from powder coated aluminium and finished in a dappled dark grey in matte. It's effortlessly sleek, brilliantly well-made and praised regularly for it's ease of use and practicality!
This on-trend table will be the envy of your pals, plus it comes with a five year warranty too.
Alexander Rose Rimini Extending Table 2.3/3.0m x 1m Dimensions
Weight: 61 kgs
Width: 2325/3000 mm
Height: 760 mm
Depth: 1000 mm
Why you'll love this Alexander Rose Rimini Dining Set:
Protected with a 5 year warranty
Rest assured your furniture is built to last and is protected with our 5 year warranty.
Easy care Aluminium
Remarkably durable yet lightweight, commercial-grade powder coated aluminium is ideal for outdoor applications.
Choose the right size and shape for your outdoor living space, add to cart and checkout now!