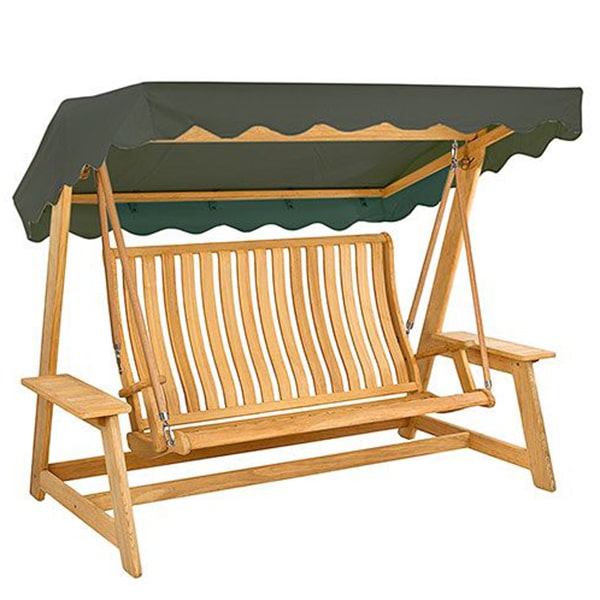 Alexander Rose Roble Garden Swing Seat
In stock for free delivery
Alexander Rose Roble Swing Seat - The Roble Collection, by Alexander Rose is made from Bolivian Roble, one of the worlds strongest and most durable woods.
The Roble Collection offers both traditional design and contemporary alternatives featuring the curved back slat bench, a ergonomic design developed by Alexander Rose.
Featuring some of the most beautiful furniture Alexander Rose has to offer the Roble Collection really has something to compliment any outside space.
The Alexander Rose Roble Garden Swing Seat:
The Alexander Rose Roble Garden Swing Seat is a stunning addition to any garden, whether as a standalone piece or as part of a collection of Alexander Rose outdoor furniture.
Featuring wide arms on either side that can hold your drinks and snacks, as well as a curved seat and backrest for optimal comfort, this swing seat is topped off with a thick and attractive overhead sun canopy, available in two colours: Ecru or Green. Crafted with precision and care, the seat is made of smooth, honey-coloured premium timber that feels great to the touch, making it the perfect garden accessory.
Why you'll love this Alexander Rose Roble Garden Swing Seat:
Protected with a 10 year warranty
Rest assured your furniture is built to last and is protected with our 10 year warranty.
Innovative Design
Alexander Rose are leaders in the industry for their innovative designs, all overseen by their in-house design team
Environment focused Sustainable
Alexander Rose source sustainable materials and wherever possible, the waste generated from their production process is recycled. All timbre is FSC Certified.
Easy Care Weather Ready Timber
All Alexander Rose products are designed to be  low maintenance. All timber ranges can be treated if requested, however if left they will weather over time to have a lovely silver grey appearance
Alexander Rose, Roble Garden Swing Seat Dimensions:
Weight: 61 kgs
Width: 2230 mm
Height: 1880 mm
Depth: 1500 mm