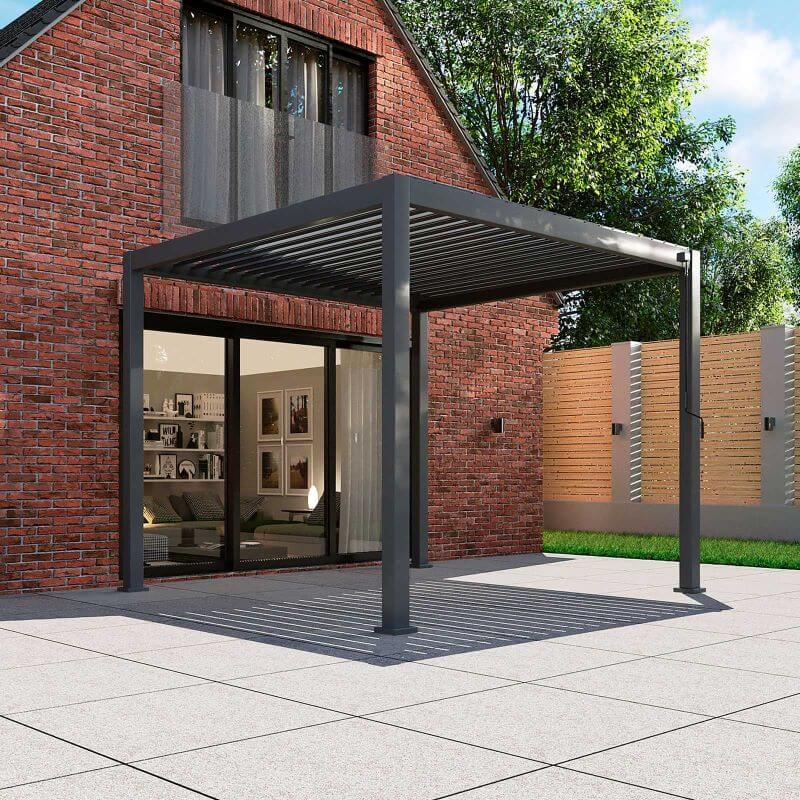 Aluminium Pergola 4x3
In stock for free delivery
Most Popular - The Nova Titan 4x3 Pergola:
The Nova Titan is the top-selling aluminium pergola in the UK. Its widespread popularity is down to Nova's remarkable ability to seamlessly balance affordability, whilst still delivering a high quality product. If you're in search of a very well crafted pergola that won't break the bank, the Nova Titan is your go-to choice.
The 4m x 3m is their most popular size, and is the largest 4 legged model they offer. Other brands do offer a 4x.3.6m option, or a 4m x 4m - if you need a bit more depth to your pergola, check these out:
Suns Lifestyle Rota Louvered Pergola 4m x 3.6m
The Best Quality 4m x 3m Pergola:
Our best-seller, the Suns Lifestyle Rota Louvered Pergola, is as good as it gets. There's a reason why it's the best aluminium pergola of 2023. It's all thanks to the amazing team at Suns Lifestyle down in Essex who are true leaders in this field. We've put so many Rotas in lots of different garden schemes, and the feedback from our customers has been consistently fantastic!
Want to check it out? The Suns Lifestyle Rota Louvered Pergola 4x3
4m x 3m Price Comparison - what are the options:
The Roof - the key to enjoying your garden with the people you love, whatever the weather
Just as with all of our aluminium pergolas, your 4m x 3m aluminium pergola comes with a louvered roof, the key to creating the perfect garden space.
Get ready to turn your garden into the ultimate entertainment hub, where you can create beautiful memories with your loved ones. We're genuinely thrilled for you!

Once you've got your pergola with a louvered roof in place, your garden will become the perfect hangout spot, rain or shine.

Imagine you're about to serve up a mouth-watering BBQ spread and suddenly, it starts pouring with rain. No need to rush indoors; just adjust the roof to closed, get complete shelter in seconds, and savour your meal!

When the wind starts blowing a gale, simply pull down those side blinds to create a cosy shelter for you and your guests.

And on those scorching 30-degree days, tweak those louvres for some refreshing shade while you pour the next round of drinks!

We're absolutely obsessed with aluminium pergolas because we've seen how they completely transform our customers' outdoor experiences. They encourage more quality time with your loved ones in your garden, and that's precisely what we're all about!
Would you like our help?
We'd love to hear from you and to help you. If you'd like our consultation, advice, a garden sketch, or just a chat - please reach out!
020 3835 8311
sales@woodlarkgardenluxury.co.uk