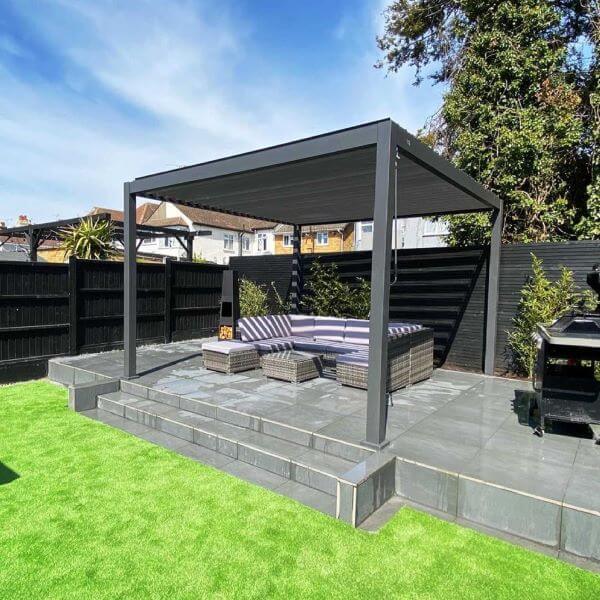 Nova Titan Pergola 3x3, 3x3.6, 3.6x3.6, 3x4, 3x6
Free delivery 5-7 working days
The Nova Titan Pergola - 3m x 3m, 3m x 3.6m, 3.6m x 3.6m, 3m x 4m, 6m x 3m
The Nova Titan Pergola is a luxurious outdoor living space that allows you to enjoy your garden and entertain guests regardless of the weather. The bioclimatic pergola features an adjustable vented louvre roof that rotates through a full 180 degrees, allowing you to control the balance between sun and shade. Deluxe pull-down blinds can be added to the sides of your titan pergola, which can be pulled down to create a cozy outdoor enclosure, or stowed away out of site when the weather is great.
If you're looking to spend quality time with the people you love, in your garden - then the Nova Titan Pergola is for you.
Why You'll Love The Nova Titan Pergola
You control the weather
You're about to serve up a mouth-watering BBQ feast for your guests, but suddenly the unreliable British weather strikes and it starts raining. Normally, you'd have to abandon your outdoor plans and move the party inside, how naff. But not with your Nova Titan Pergola!
With a fast 5 second adjustment, you can close the louvre roof and keep everyone and everything underneath dry. Perfectly designed drainage channels in the louvered roof collect the water, and drain it out the pergola's legs, ensuring the no rainwater ends up inside the pergola, or on the back of your house. Now it's time to enjoy your delicious meal the way it was intended, out in your beautiful garden.
Fast forward to the following weekend, and the weather couldn't be more different. It's scorching hot outside, and your guests are cooking faster than the meat on the bbq. Thankfully, your pergola has a solution for that too. By rotating the vented louvre roof through 180 degrees, you choose your ideal balance of sun and shade, for a comfortable and enjoyable outdoor experience. So go ahead, grab a cold drink, sit back and enjoy life in your Titan pergola!
An exceptional structure
The allure of luxury is embodied in the elegance of aluminium. Its undeniable appeal is why 5-star hotels and upscale restaurants choose to feature aluminium pergolas, and the Titan pergola will transform your outdoor space into the pinnacle of luxury in just the same way.
Wind resistant up to 120kmph

Have you ever experienced the frustration of a parasol turning inside out due to a sudden gust of wind? With the Titan Pergola, that is one less thing to worry about. The Titan pergola is meticulously designed and tested to be wind-resistant, even up to speeds as high as 120kmph.
A Full 5 Year Warranty
Your Nova Titan Pergola is going to transform the way you live outdoors for years to come. It comes with a complete 5 year warranty, a guarantee that you'll love this pergola for many years to come.
A hassle free 2 hour assembley
The Titan pergola is designed to transform your space, but that doesn't mean assembling it needs to be an arduous task! Simply enlist the help of your partner, friend, neighbour or local handyman. The two of you will have the task completed in a few hours. Time for a glass of wine or a beer!
Nova Titan Pergola Sides
Nova Titan Pergola Privacy Sides / Pull Down Screens
The pull down screens are a great addition to your Nova Titan Pergola, making your entire pergola completely weatherproof, offering shelter from the wind and rain whilst creating a cosy enclosure for outdoor living.
The blinds are fitted into runners on the aluminium pergola legs, ensuring they are nice and robust even on the windiest days. The blinds can be completely stowed away out of sight when they aren't being used, and pulled down any distance to cover some or all of the pergola side.

The Nova Titan Pull Down Screens come in 3m, 3.6m and 4m sizes, fit between the legs on all pergola variants. You can choose to cover all sides or just select sides of your pergola. The 6m x 3m Nova Titan Pergola can take up to 6 pull down screens, whilst all other variants can take up to 4.
These can all be added from the "add ons" section, just above add to cart.
Nova Titan Pergola Vented Louvered Sides and Solid Panels
Adding vented louvered sides to your pergola is a really stylish and flexible way to customise your outdoor living space.
The aluminium vented louvered sides are perfect for adding extra shelter and privacy, or for attaching a TV, patio heater or some lighting to your pergola.
The vented louvered sides come in 1m and 1.2m variants. You can choose to cover a full side, for example 3x 1m sides on a 3m titan pergola side. Or you can just cover a portion of your pergola side.
These can all be added from the "add ons" section, just above add to cart.
Nova Titan Pergola 3x3 Floorplan
Nova Titan Pergola 3x3.6 Floorplan
Nova Titan Pergola 3.6x3.6 Floorplan
Nova Titan Pergola 3x4 Floorplan
Nova Titan Pergola 3x6 Floorplan
Nova Titan Pergola Footplate and Leg Dimensions
Nova Titan Pergola Assembly Instructions
Nova Titan Pergola Assembly Instructions
It's time for you to secure the dream outdoor living experience that you deserve. Hit the "add to cart" button at the top of the page, and we will quickly deliver your new Titan Pergola!