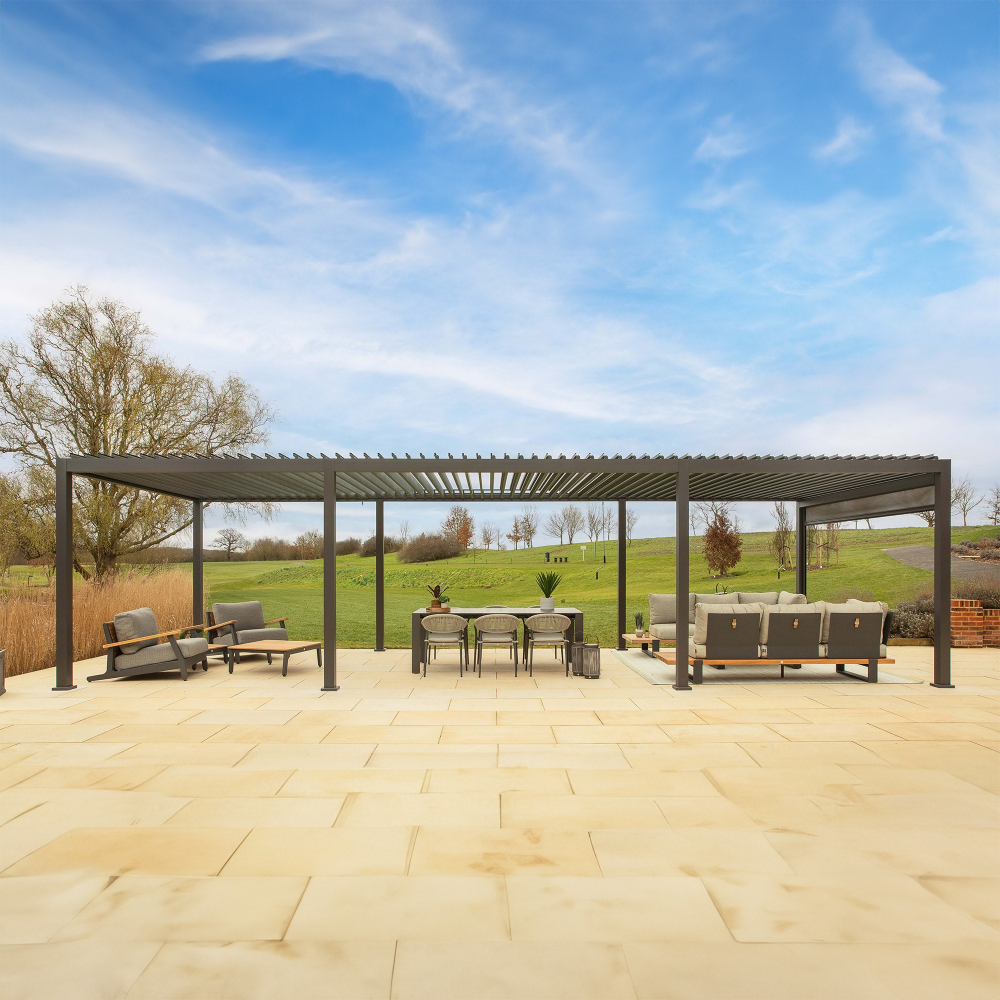 Suns Lifestyle Alvaro Louvered Pergola
Introducing the Suns Lifestyle Alvaro Pergola, the absolute nuts, it doesn't get better than this.


This captivating pergola is the perfect place to gather and create unforgettable memories, all while enjoying the benefits of the innovative Alvaro bioclimatic system which allows you to control the climate of your outdoor paradise.

From providing respite from the midday sun to transforming into a sheltered outdoor sanctuary during an unexpected shower – not even the unpredictable whims of the weather can hinder your ability to create a remarkable experience for your guests.

The Suns Lifestyle Alvaro Pergola is ready for installation, bringing your alfresco paradise to life. Crafted from strikingly beautiful aluminium, this structure instantly elevates your outdoor space with an infusion of class and luxury. With the Alvaro Pergola, you'll extend your living area by up to 280 square feet, creating a purpose-built outdoor room that's perfect for dining, lounging, and forging lasting memories.

This remarkable pergola boasts cutting-edge bioclimatic design and engineering. But what exactly does "bioclimatic" mean? It means the Alvaro Pergola is a complete weather protection system, ready to create the perfect weather environment in all conditions.

On those blissfully sunny days, the louvered roof can rotate a full 180 degrees, granting you absolute freedom and flexibility to create the ideal amount of shade, ensuring your guests revel in the perfect temperature.

Knowing that relying on the British summer can be uncertain, the Alvaro Pergola provides you with peace of mind when it comes to rain. Within seconds, the roof can be fully closed, transforming into a rain protection shield. Bid farewell to hurriedly collecting every cushion, plate and food dish, for a mad dash indoors – your pergola has you covered, quite literally!
Benefits of the Suns Lifestyle Alvaro Pergola:
Mount it to the back of your house for a seamless transition:
Our pergolas can be mounted to the back of your house, eliminating any gaps between your home and the magnificent Alvaro aluminium pergola. It's the epitome of indoor-outdoor living at its finest.
For the 6-legged structures (5m, 6m, and 7m models), the central leg can be removed once securely fixed to the back of your property, ensuring no doors at the back of your house are obstructed.
Hassle-free self-assembly in just a few hours:
Transform your outdoor space within a few short hours, ready for your immediate enjoyment. No tedious complications — just the pure delight of savoring a drink in your splendid new outdoor oasis. And if you prefer, we can arrange professional installation for you, making the process even simpler!
Built to withstand wind speeds up to 120kmph:
This fully permanent structure is engineered to resist the elements year-round, allowing you to install it, and relish in it, without a hint of stress. This pergola is as robust as it gets, and is the epitome of quality. You should put only the best on the back of your home, and this is it.
A stunning aluminum finish that remains vibrant:
Thanks to its UV-resistant powder-coated finish, the Alvaro Pergola retains its remarkable beauty summer after summer, undeterred by the relentless rays of the sun.
Side blinds and louvers for your Suns Lifestyle Alvaro Pergola:

Deluxe Side Blinds:

Craft your ideal enclosure, complete with ulitmate flexibility, by adding the Suns Lifestyle Alvaro Deluxe Side Blinds.
The side blinds can be stowed completely out of sight when not being used, and then pulled down at a moment's notice to offer protection from the wind, rain or sun. 
The Suns Lifestyle Alvaro 3m x 3.6m and 4m x 3.6m are 4 legged pergolas, and they can take up to 4 deluxe blinds (one per side).
The 6m x 3.6m, 7m x 3.6m and the 8m x 3.6m, have 6 supporting legs, and so can take up to 6 deluxe side blinds, 2 blinds on the longest sides, and one per end.
The 9m x 3.6m Suns Lifestyle Alvaro Pergola, has 8 supporting legs, and can take up to 8 blinds, 3 per long 9m side, and one on each end.
Add deluxe blinds to your purchase through the "add to cart" button at the top of the page.

Vented Louvres Sides For The Suns Lifestyle Alvaro Pergola:
There is also the option to add vented side louvres. These are a permanent side unlike the deluxe blinds which can be pulled up and down, and offer a fantastic ceramic finish.
Each louvre side will cover one third of each side, so to cover one full side (the gap between 2 legs)  you need 3 louvre sides total. There is also the option to cover a portion of each side - see a couple of the images below for inspiration!
Want to see our wider collection of aluminium pergolas? Click here.