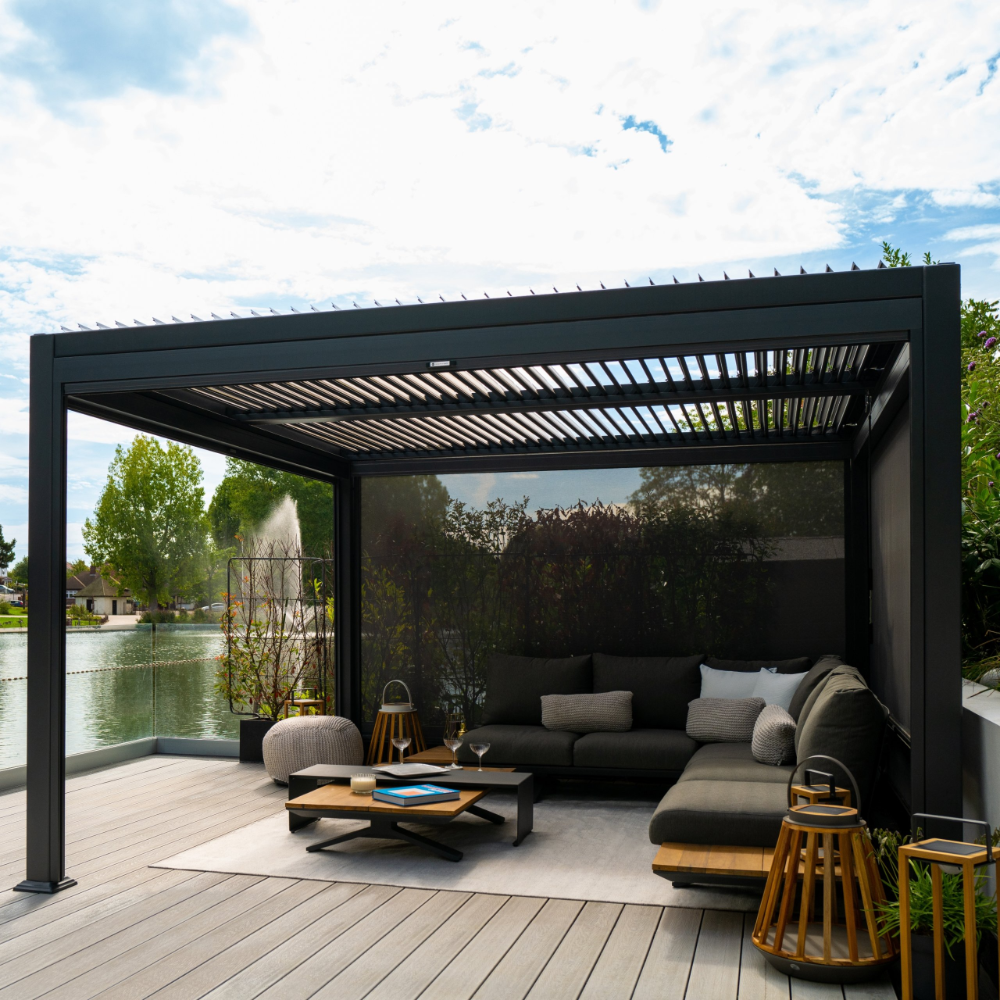 Suns Lifestyle Maranza Vented Pergola (multiple sizes up to 7m)
You are about to extend your property with none of the fuss. With the Suns Lifestyle Maranza Pergola, you'll increase your living space by up to 270 square feet, with a perfect outdoor room. Ideal for spending time with the people you love, whatever the weather.
Today is the day, you're hosting the people you love in your beautiful home. The fridge is stocked and the drinks are on ice. You wake up filled with excitement and anticipation for the day ahead.
Your guests arrive and are blown away by the stunning outdoor space you've created, "it's like something out of a 5-star hotel." They find their perfect spot within your Maranza pergola and as you place a cold drink in their hand. They have a look of utter contentedness.
Your home has been transformed into the epitome of indoor-outdoor living and the scene is set for you to create wonderful memories, with the people you love.
How does the Maranza Deluxe Vented Gazebo create this indoor-outdoor paradise?
A truly exceptional aluminium structure, that oozes class and transforms the back of your house. With the Maranza you can add up to 270 square feet to your living space as soon as next week and achieve prime indoor-outdoor living with this exceptional bioclimatic design.
What is a bioclimatic pergola you ask? Bioclimatic refers to the way the Maranza has been designed and engineered as a complete weather protection system, perfect for all conditions.
When the sun is shining, the vented louvre roof gives you complete shading flexibility, allowing your guests to either bask in the sunshine or enjoy cool shading – and everything in between.
Even better, the Maranza's roof has independent sections so that your guests can choose between sun and shade simultaneously.
When the rain is falling, the louvered roof can be set to closed in seconds, creating a cosy enclosure and keeping the rain out. Enjoy the acoustic pitter patter of rain falling on the aluminium shutters as it drains away seamlessly through specially engineered channels in the pergola's roof and legs.
In short, the Maranza pergola is going to transform your garden into an alfresco paradise and create the perfect space for you to host the people you love and create wonderful memories.
Benefits of the Suns Lifestyle Maranza Deluxe Louvered Pergola:
Mount your Maranza Vented Pergola to the back of your house and remove the central leg.
Looking to have your Maranza Pergola up against the back of your house? Great news, if you're going for a 6 legged structure (anything 5m or larger), you can remove that central leg on the house side and replace it with a wall bracket.
This ensures that your pergola won't obstruct any patio doors at the back of the house!
2-hour hassle free self-assembly.
A full outdoor transformation, with absolutely no stress involved. A simple self-installation, you'll be sipping wine within your stunning new pergola in no time. Or if you'd like to go one step further, we can organise installation for you!
Our Maranza pergola can be installed on most surfaces such as patio, decking and even grass with the addition of a small concrete base for each leg.
Wind resistant up to 120kmph.
Whilst the Maranza pergola can be disassembled at any time, there is no need to. Wind resistant up to 120kmph, the Maranza is a fully permanent structure that you needn't worry about!
Looking brand new for years to come.
The Maranza pergola is fully resistant to the sun's UV rays. That stunning powdered aluminium finish won't fade.
Adding Deluxe Blinds or Vented Sides to your Maranza Pergola:
Deluxe Blinds:
Adding deluxe blinds to your Maranza Pergola is a great way to ensure you can enjoy your outdoor space, whatever the weather.
When the weather is at its beautiful best, the deluxe blinds can be stowed away out of sight.
But if the wind or rain picks up, they can be pulled down in seconds, to create that protected cosy enclosure that ensure the party goes on inside your pergola.
Each 4 legged Maranza pergola (anything 4m or under) can take up to 4 blinds total (to cover all 4 sides.
Each 6 legged structure (5m and above) can take 6 blinds in total (2 blinds per long side and 1 per end).
Vented Sides:

The vented sides for your Maranza Pergola, are more permanent and don't pull up and down like the deluxe blinds.
Fixed in one position, they offer a beautiful ceramic finish and create a luxury indoor outdoor living environment.
Like the deluxe blinds, the vented sides cover 1 whole side - so on a 4 legged pergola (4m and below), 4 vented sides would cover the entire structure. On a 6 legged (5m and above), 6 vented sides would cover the whole structure (2 per long side and 1 per end).
A 5-year guarantee for complete peace of mind.
Our Maranza pergola is accompanied with a complete 5-year guarantee. You're likely to never need it, but it's nice to know it's there.
Our after-care programme for the Suns Lifestyle Maranza Pergola:
After we've helped you to find your perfect pergola, we are here to ensure it transforms your outdoor space into the garden of your dreams. Once you've purchased your pergola, you'll have access to our customer care line, available every day of the week.
Want someone to walk you through the installation? Give us a call!
Using the louvered roof mechanism for the first time and have some questions? Drop us a Whatsapp!
We are always here - we know this pergola will transform your outdoor space, and we are here to make sure that happens!
Remember, in the unlikely event that you don't love it, we take all the hassle out of returns, handling all the logistics and covering the return shipping costs. (For more detail see our returns policy in the footer)
So, what are you waiting for? Hit the add to cart button at the top of the page, and we will quickly deliver your new Suns Lifestyle Maranza Pergola and transform your outdoor space, into the garden of your dreams!

Suns Lifestyle Maranza Deluxe Vented Gazebo Floorplan

Suns Lifestyle Maranza Deluxe Vented Gazebo Manual