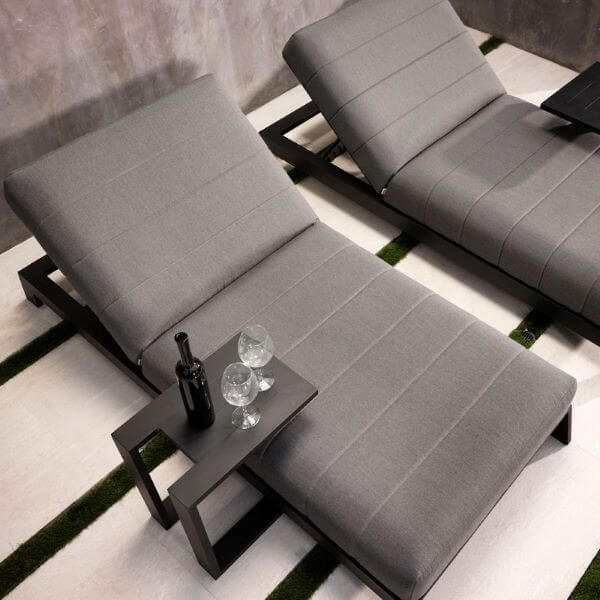 The Arabian Lounger - Aluminium Frame Sun Lounger
In stock for free delivery
Soaking in the sun in your back garden? Do it in 5* luxury, with The
Arabian lounger by Westminster Outdoor Living.
Personally, we dream of being on holiday. And when we have that day dream, one of the first things we think of is laying on a sun lounger and resting, reading, listening, drinking, or even chatting away… 
The Arabian Lounger's luxurious feel gives you that holiday experience in your own garden. Elevating your outdoor living and the joys you can experience at home have never been easier to attain with this Arabian Westminster Outdoor Living Lounger.  
With its deeply padded cushion and adjustable back rest, the Arabian Westminster Outdoor Living Lounger is  the perfect product from our Westminster Lounger collection. Constructed using a fully welded powder coated aluminium frame, along with all year round weather proof Sunbrella Fabric and quick dry foam, the Arabian lounger provides the ultimate user experience, keeping you relaxed and hassle-free, making everyday feel special and like you're on holiday! 
Benefits of the Arabian Lounger by Westminster Outdoor Living.
Choices please! One style doesn't fit all.. and it doesn't have to! 
The Arabian Lounger's stunning and highly practical and advanced design allows for four different customisable options! From charcoal and white aluminium frames and slate and stone fabrics. 
Adjustable for every occasion.
No Westminster Outdoor Lounging product would be complete without the perk of being adjustable. The carefully designed aluminium frames make for easy changes to the degree of relaxation! This Arabian Lounger is perfect for fully reclined naps or lazing, but also, creates the ultimate comfort for sitting up at your chosen angle. 
Aluminium - durable and reliable with our  Westminster Outdoor Living Loungers
A stylish, complimentary material, this lightweight but strong, durable and reliable powder coated frame makes the Arabian Lounger the perfect lounger for all outdoor dining, outdoor seating and of course its main purpose - outdoor lounging, with very little maintenance required. 
Fabric and cushion - stylish and hassle-free! 
With its stunning, deluxe cushion the Arabian Lounger is totally hassle-free. The Sunbrella fabric, with its large air permeable pores and quick drying foam means your cushions will stay hygienic with fresh air circulating freely for your ultimate enjoyment. 
Not only that, but the custom-made fabric is UV stable, with heat protection, meaning no burning backsides if they've been waiting in the sun for your arrival! These Westminster Outdoor Living loungers are 100% weatherproof. Whatever the conditions, you can leave them in place, with no need to remove the cushions and store them away, as even after heavy rain, these day loungers will be ready for you within the hour! 
Dimensions of the Arabian Lounger by Westminster Outdoor Living.
Height: 38cm | Width: 90cm | Length: 225cm
Weight: 35kg
Arabian Sun Lounger by Westminster Outdoor Living Instructions Manual.