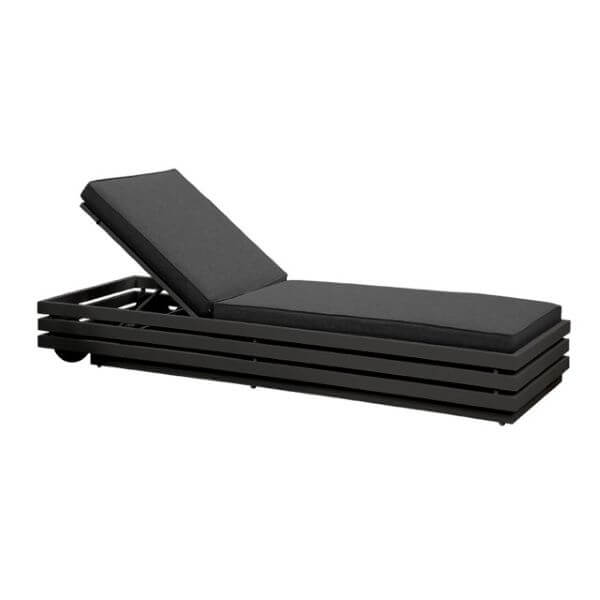 The Tomorrow Lounger - Aluminium Frame Sun Lounger
In stock for free delivery
The Tomorrow Lounger - One of our personal favorite's, the Tomorrow Lounger brings a chic and modern vibe to elevate your outdoor living haven. 

If you're looking for an outdoor sun lounger, that makes you smile when you see it, not only because you're dreaming of laying down with a good book on a warm day, but because it brings the garden vision you've been dreaming of to life, than our Westminster Tomorrow lounger is for you.
How the Tomorrow Lounger will elevate your garden:

Westminster Outdoor Living's Tomorrow lounger, with its stunning and unique aluminium palette style frame makes this lounger the perfect asset for your garden. 

Modern in design, the Tomorrow Lounger also boasts a luxurious and comfortable cushion with two customizable shades and discreet wheels - so you never have to compromise on style, for practicality! 
Benefits of the Tomorrow Lounger: 
Discrete wheels for easy maneuvering! 
With its hidden wheels, the Tomorrow Lounger can be easily maneuvered around your garden. Whether that's chasing the sun, or moving closer to the buzz of conversation, this Westminster day lounger makes no compromises. 
Powder coated aluminium frame - for that forever enjoyment…
The Tomorrow Lounger's aluminium palette style powder coated frame ensures the longevity of this Westminster lounger.
A proven lightweight material, the Tomorrow Lounger frame is strong and durable.
Extremely low-maintenance, the frame only requires a soapy washdown a few times a year to prolong its long and beautiful life! 
Fabric and cushion foams - for even more forever enjoyment… 
We know that the perfect sun lounger is not all about the look. It's also about the feel. The Tomorrow Loungers quick dry foam cushion, made from sunbrella fabric is top of the range when it comes to sun loungers.
The padded cushion, made with quick dry foam is a high-performance material designed with outdoor living in mind. The porous and open-cell structure ensures that rain or liquid drains fast, drying the fabric almost instantly. 
Further to that, this Westminster outdoor day lounger products' open-cell structure allows fresh air to follow and circulate rapidly, keeping your cushions hygienic, but also, keeping you cool on those beautifully warm days. 
This sun lounger is all about style, so choose yours! 
The Tomorrow Lounger, part of our amazing Westminster Outdoor Living range comes in four different combinations and styles! 
Whilst our personal favourite is the charcoal aluminium frame, with the sunbrella stone fabric. You also have several others to chose from, including: 
White aluminium frame x slate sunbrella fabric lounger

White aluminium frame x stone sunbrella fabric lounger

Charcoal aluminium frame x slate sunbrella fabric lounger 

Charcoal aluminium frame x stone sunbrella fabric lounger 
Dimensions of the Tomorrow Lounger:
H 30cm W 74cm D 205cm WT 28kg
Call us cheesy, but we really don't think you should wait until Tomorrow to order this dreamy Westminster Lounger. 
The Tomorrow Lounger Instruction Manual: