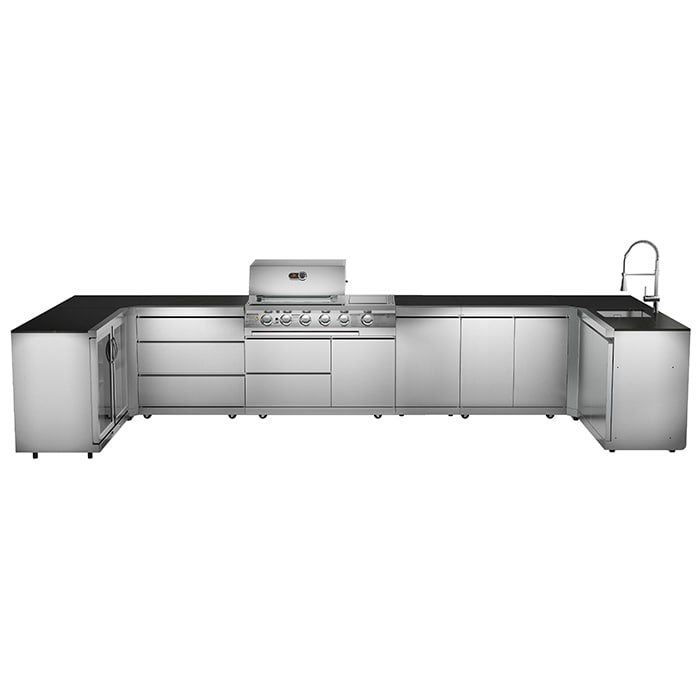 Whistler Grills Malmesbury Outdoor Kitchen
In stock for free delivery
The Malmesbury Outdoor Kitchen by Whistler Grills
Transform your backyard into the ultimate outdoor entertainment space with the stylish and functional Malmesbury Outdoor Kitchen, by Whistler Grills. The Malmesbury is a truly elite outdoor kitchen set up, so complete it will make your indoor kitchen blush.
The black laminam marble worktops add a touch of sophistication to your home garden, while the large BBQ and integrated kitchen area make it easy to host unforgettable summer gatherings.
One of the best things about these modular kitchens is their flexibility. You can easily move and re-arrange each section to create a custom design that fits your unique style and needs. And if you'd like to create your own from scratch - just give us a call!
Take your grilling game to new heights with the elite level Cirencester BBQ, which sits at the heart of the Malmesbury Outdoor Kitchen. Multiple grills allow you to cook up a storm with ease, and the stainless steel hood and infrared back and side burners provide a consistent and reliable heat source for perfectly cooked food every time.
Every inch of this outdoor kitchen is high grade, from it's exceptional quality stainless steel units, to the laminam marble countertop. It's all built to last, and ready to be entertained in and enjoyed. You're going to absolutely love it!
Malmesbury Outdoor Kitchen Overview
This Malmersbury Outdoor Kitchen Includes:

Whistler Cirencester Sink
Whistler Cirencester 4 or Whistler Cirencester 6
Whistler Cirencester Fridge
Whistler Cirencester Soft Close Triple Drawers
Whistler Cirencester Double Cupboard Base Unit
Whistler Cirencester 2x 90-degree corner
Whistler Cirencester Gas Cabinet
Malmesbury Outdoor Kitchen Tech Specs
Stainless Steel - Hygienic Material
4x or 6x Premium Stainless Steel Burners
Ceramic Infrared Back and Side Burners
Laminam Marble Effect Counter Tops
Includes Modern Flexi Sink Tap
Bin Included under Sink

Free Standing Units
Downloads