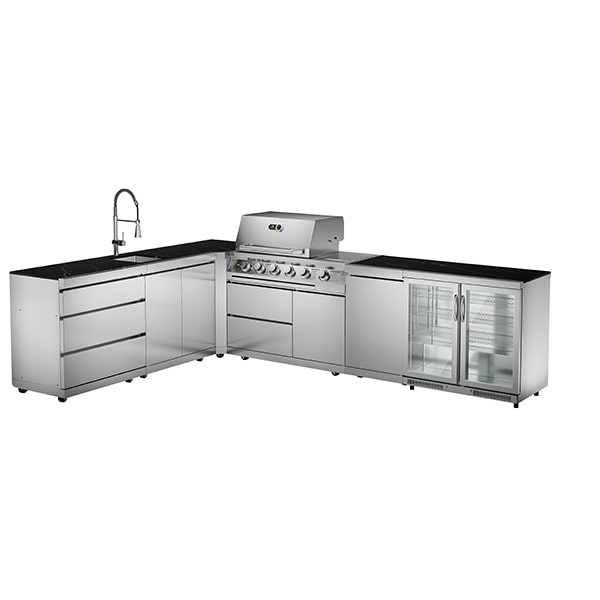 Whistler Grills Stroud Outdoor Kitchen
In stock for free delivery
The Stroud Outdoor Kitchen by Whistler Grills
Get ready to elevate your outdoor cooking game with the incredible Stroud range. This isn't just any BBQ - it's a culinary powerhouse that will make your taste buds dance with joy. Thanks to its precision cooking and ability to crank up the heat, you'll be able to create mouth-watering dishes that will impress even the most discerning of palates.
What's truly amazing about these modular kitchens is their flexibility. You can easily customize the layout to suit your needs, and move each section around to create your own unique design. It's like having your own personal chef's kitchen right in your backyard.
The Stroud is the outdoor cooking set up of champions. With an L shape configuration full to the brim of style and practicality, it really doesn't get any better. The Stroud has everything you need to create a culinary and outdoor entertainment masterpiece. Alongside the very best Cirencester BBQ, it comes fitted with a 228 litre double outdoor fridge, soft closing triple drawers, a stunning welded sink with a modern flexi-tap and a cabinet for storing your gas canister. It's the ultimate set up from which to practice your craft.
The Stroud BBQ system comes equipped with multiple interchangeable grills, so you can cook a wide variety of foods all at once. And with its stainless steel hood and infrared back and side burners, you'll have a stable and consistent heat source that ensures your food is cooked to perfection every time.
Each section of the BBQ is made from high-grade stainless steel, which is resistant to oxidization and corrosion. And the counter tops are finished with a durable laminate that can withstand wear, chemicals, scratches, and UV rays - so you can be sure your Stroud BBQ will look and perform like new for years to come.
The Stroud is the home of elite outdoor cooking, and it belongs in your garden.
Stroud Outdoor Kitchen Overview
This Stroud Outdoor Kitchen Includes:
Whistler Cirencester 4 or 6 Burner Gas Barbecue
Whistler Cirencester Double Fridge
Whistler Cirencester Gas Cabinet
Whistler Cirencester 90-degree corner
Whistler Cirencester Triple Soft Close Drawers
Whistler Cirencester Sink
Stroud Outdoor Kitchen Tech Specs:
Stainless Steel - Hygienic Material
4x or 6x Premium Stainless Steel Burners
Ceramic Infrared Back and Side Burners
Laminam Marble Effect Counter Tops
Includes Hot/Cold Sink Tap
Bin Included Under Sink
Free Standing Units
Downloads