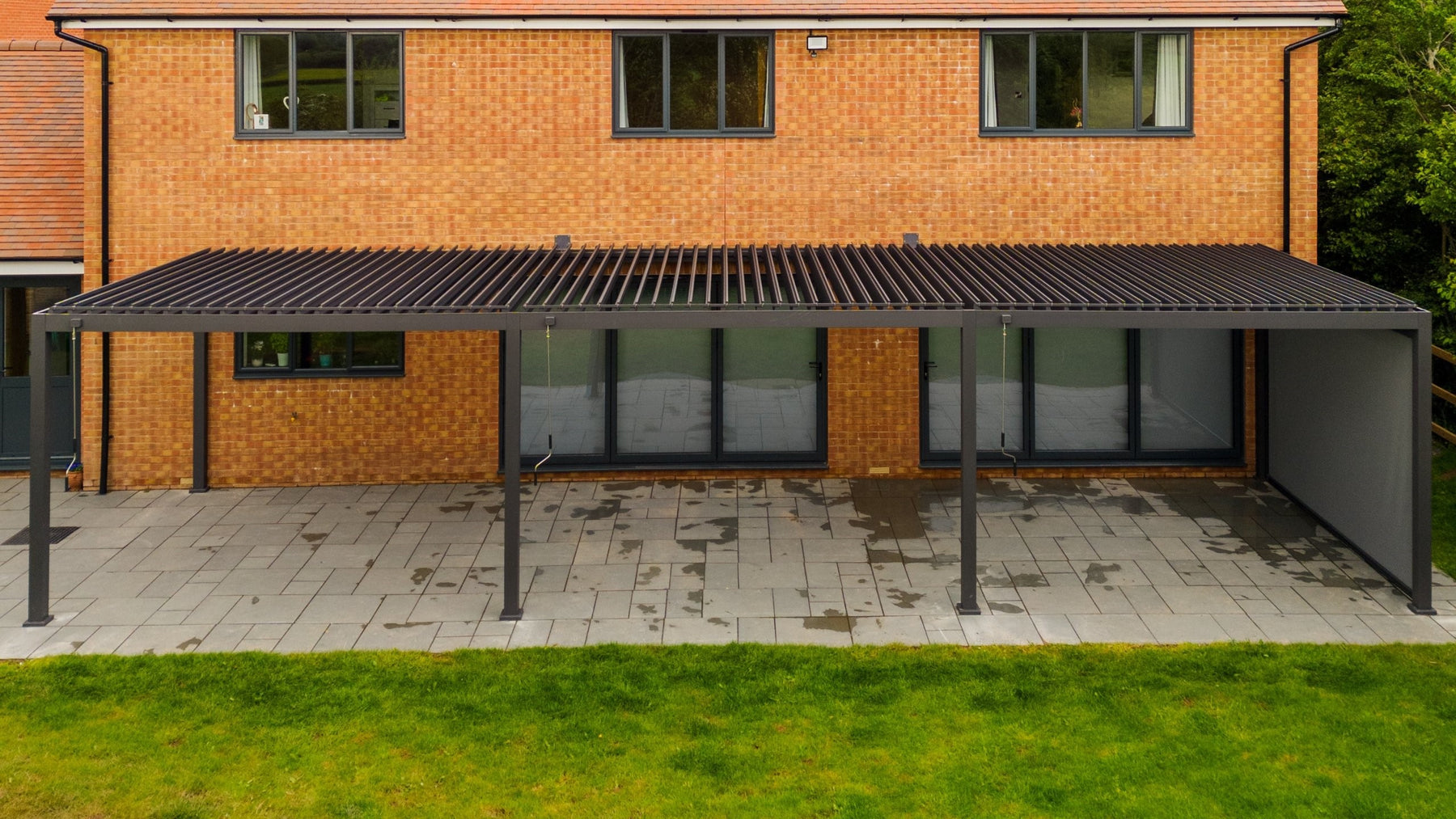 How to install an aluminium pergola
An introduction to your aluminium pergola installation
Thinking about adding an aluminium pergola to your outdoor space? Great choice!
Does the idea of having it installed fill you with dread? If so, you're not alone. It is something that worries a lot of our customers. But great news, installing your aluminium pergola is actually very straightforward, and there are a variety of ways to make that happen. From installing the aluminium pergola yourself, to having it installed by the manufacturer or a local tradesperson - getting your aluminium pergola in and perfect needn't be a headache.
We are absolutely here to help you, feel free to give our team a call on 020 3835 8311 - if you'd like to pick the brains of our 'pergola nerds' when it comes to installation.
Or read on, for the complete guide on how to build an aluminium pergola for beginners, or how to successfully get someone else to do it!
How to install an aluminium pergola - quick links
Where can you install an aluminium pergola?
The first thing you need to do is decide the positioning of your aluminium pergola, and therefore where you'd like it installed. This will inform the size of pergola you need, along with exactly what is necessary when it comes to installation.
An aluminium pergola can be installed anywhere that there is a solid foundation for the legs to be secured to. Patios, decking, grass and more, are popular choices. But just because those surfaces can all be suitable for aluminium pergola installation, doesn't mean they won't need some preparatory ground works.
In the next couple of sections, we will walk you through the ground works considerations before you start considering how to build your aluminium pergola.
Struggling to work out which is the right aluminium pergola for you? Check out our best aluminium pergolas of 2023 guide.
Aluminium pergola installation on a patio
Patios are the most popular location for aluminium pergola installations, and they can be nice and simple.
When installing onto a patio, the key thing is simply to ensure that there is a solid foundation underneath the location of the pergola legs, for these to be secured into.
If you're creating a new patio, share the floorplan (we can provide this) of your chosen aluminium pergola, with your landscaper, and they can ensure that there are solid foundations (usually concrete pads) underneath the location of the pergola legs. The dimensions of these concrete pads tends to be around 40cm x 40cm x 40cm.
Once the concrete pads are in place, the installer can fix through the patio stone, directly into the foundation - leaving your aluminium pergola fully secure. All of our pergolas have a footplate cover, used to obscure all fixings into the patio, so that the installation looks seamless.
In terms of further guidance, we are always happy to advise on aluminium pergola fixing details, dependant on your individual circumstances. One common question is regarding installation to porcelain tiles. In this case, we recommend using a diamond drill fitting to mitigate any cracking.
Aluminium pergola installation onto decking
When it comes to installing your aluminium pergola onto a decking, there are a couple of popular options for solid foundations. Decking often requires supporting joists to sit underneath the boards, which can often act as a solid base to fix your aluminium pergola legs into.
Once again, if you're having a new decking built, be sure to pass the floorplan of your chosen model onto your landscaper, they can then ensure that either joists or concrete pads sit underneath the leg location of your aluminium pergola - and you're good to go!
How to build an aluminium pergola when the ground isn't level
Now this all depends on how greater level change we are talking. Most patios and other outside areas aren't truly level, as they have a natural fall to allow water drainage. Small changes like this in the level of your base, can be easily counteracted.
Spacers underneath the pergola legs can usually be used to compensate for level imbalances up to around 50mm. Any greater than that, and spacers will no longer do the trick. If you have severe level changes, for example a step up or down, or you're wondering how to install an aluminium pergola on a slope - the best thing to do is to look at cutting down the legs of the aluminium pergola before installation. This can usually done without impacting your pergola warranty (although it's always best to check) and because of the replaceable footplate cover, cutting down the legs has no impact on the final aesthetic.
Who can complete my aluminium pergola installation?
You can opt for manufacturer installation
This is a very popular choice, and one that a couple of our brands offer (Suns Lifestyle and Westminster). When you choose this option, you'll get a two man team supplied by the manufacturer themselves, to install your pergola. Give us a call on 020 3835 8311 to discuss this one, as sometimes geographical or diary constraints can apply
Your chosen tradesperson can complete it
This often works nicely if you're installing a pergola as part of a wider outdoor transformation. For example, if you have landscapers on site creating a new patio or decking, they are the perfect people to prepare and install your new pergola. Give them the floorplan of your chosen model early on, so they can prepare the footings, making installation a breeze. Even if your tradesperson hasn't installed one of these before, our installation manuals, 'how to' videos and installation guidance team, will be able to walk them through it. If you haven't got tradespeople already on site, generally landscapers, builders, fencing and decking experts, handymen and carpenters are very comfortable installing one of these units.
If you're comfortable with a bit of DIY, taking on your aluminium pergola installation should be no problem, just be sure to rope in the help of at least one other person, trying to do this as a one man team isn't advised!
Whether you install it yourself or have it installed by a tradesperson of your choice, this will not impact your aluminium pergola's warranty, providing the installation guidance has been correctly followed.
How long will it take to install my aluminium pergola?
This depends on a number of factors...
The size of your pergola
Who's installing it
How many blinds / sides you have
The general rule of thumb is around 2-5 hours, depending on the factors above. If you're trying to understand how long it will take a tradesperson, 1 day's labour for a 2 man team is always safe, sometimes it might be possible in 0.5 days for a smaller installation.
Can I complete my aluminium pergola installation myself?
Can you DIY it? Absolutely!
Many of our customers opt to install their own aluminium pergola and make use of the instruction manuals and guided videos that we are able to provide. The early part of the installation is simply assembling your aluminium pergola parts. It's only once you start fixing the legs down and possibly wall mounting that a bit more DIY awareness is important.
If you are comfortable with DIY, you are likely to find installing your pergola no problem at all.
Pergola installation cost
It's always important to know what your pergola installation cost is likely to be, so you can factor that into your overall budget. Like everything, a few factors can influence this, but the below is a solid guide. If you'd like to discuss a particular scenario and understand the cost, give us a call on 020 3835 8311.
If you DIY it - a good portion of your day and a beer for a friend
Of course if you go down the route of self installing, you keep costs right down. You shouldn't require any specialist equipment, other than possibly a diamond drill fitting if you're installing to porcelain tiles. It will cost you probably 2-6 hours of your time, and whatever you need to convince a friend or family member to help you (maybe a pizza or a beer).
Installed by a tradesperson of your choice - £500-£700
This will of course vary based on the individual, and they could provide you an exact quote - if you need any supporting materials to assist with this (floorplans, installation guides etc.) feel free to reach out. Generally this is likely to be cheaper if it's completed as part of a wider landscaping project, but one day's labour for 2x people is what you need, which we've found to fall around £500 - £700.
Manufacturer installation - £550 - £650
This will vary slightly based on the manufacturer, the size of the aluminium pergola you're having installed and what it's being installed on to - but in the region of £600 is a good guide.
What about installing my louvered roof or the side blinds?
All of our aluminium pergolas come with a full louvered roof, as does any aluminium pergola worth having! So what about installing that louvered roof, and possibly some side blinds too?
When it comes to your louvered roof, installation is very simple, once you've got your frame created, you'll be able to begin clipping in the roof louvres. The instruction manual will walk you through this, but it's very simple - not unlike attaching slats on a bed. Just be sure to clip the louvres in by applying pressure to the ends (near the fixing point) and not in the middle of the louvre, you don't want to bend a louvre by applying pressure in the centre.
Installing side blinds or louvres is also fairly straight forward, and these always come with their own installation manual. Your aluminium pergola sides can be fitted at the same time, or retrospectively, as it's simply adding the cassette and runners in between an existing set of legs. The most important thing when it comes to installing your blinds is that the legs are level.
Does my pergola need to be anchored by fixings?
The fixing details for your aluminium pergola will be pretty straight forward, it is more important that you have the correct foundations present for the legs to be fixed into. Proper fixing is key to ensure that your aluminium pergola is secure for years to come. Exact fixings and the number of them required, varies by model. Sometimes it's as few as 1 fixing per leg (Westminster Summit), others require 4 fixings per leg. These fixings are generally about 7cm deep, and so go through your patio stone or decking board, into the foundation below. All high quality models will provide these fixings and also will provide a footplate cover, to hide them once installation is complete.
Do I need to get planning permission before booking my aluminium pergola installation?
Put simply, no, in the vast majority of cases! Aluminium pergolas under 2.5m tall (which all of our models are) are exempt from planning permission in almost all cases.
Like everything, there are some occasional exceptions, so feel free to check out our article - do you need planning permission for a pergola.
Pergola Assembly Instructions
How to install an aluminium pergola, video walkthrough
Want to see the Suns Lifestyle experts installing a 5m aluminium pergola? Check out the video walkthough...